It's finally here!  My one year Blogiversary!  Considering I started this blog just so I could enter online sweepstakes (thanks, Trisha!), I never thought I would enjoy blogging and would actually reach the day where I could say that The Not-So-Blog was an Actual Blog!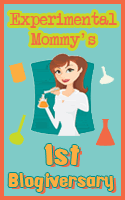 From my first post, to becoming a partner at MomDot, to winning a full ride scholarship to BlogHer, to giving away great prizes of my own, I have loved every minute of it!  I truly appreciate the support of all of my readers which have grown to become both my bloggy friends and mentors.
I wanted to show my appreciation for you all by lining up some fabulous giveaways.  Make sure you stop by each day to unwrap a new "gift" from The Not-So-Blog!  Grab my giveaway button and join the party!