Alise, an Adorable Kinder Rag Doll by Granza, Inc., will be a great surprise for my 4 year old daughter and will become an instant best friend, playmate and bedtime buddy.
One Alise Adorable Kinder Rag Doll by Granza, Inc. complete with pink pajamas and her cuddly, soft teddy bear, and one very excited 4 year old!    This game is recommended for ages 3 and over.   About Adorable Kinders:
"Adorable Kinders® are high-quality rag dolls based on a diverse group of kindergarten friends. There are 26 Adorable Kinders Rag Dolls, one doll for each letter of the alphabet– from Alise to Zachary. Together, the 26 rag dolls represent a wide variety of physical appearances and personalities.
The dolls were designed for durability, but safety and comfort were also huge factors. They're made of 100% soft cloth, with no hard or plastic parts, making them a perfectly comfortable nap or nighttime pal. Each doll weighs less than 2 lbs., so they've got enough heft to feel substantial without weighing a child down."
When the Adorable Kinder Doll arrived, Lily could hardly wait to open the box and discover her new friend.  The packaging for the doll is so nice!  Each doll comes in a sturdy box which definitely makes a great presentation for gift giving.  Alise, one of the 26 Adorable Kinder dolls, looks just like Lily!  With brown hair, brown eyes and soft pink pajamas (perfect for making this doll a bedtime buddy!), Alisa became an instant companion for my daughter.  The doll is very well constructed and definitely has more weight to it than her stuffed animals.  The removable pajamas are adorable and Alisa's teddy bear is incredibly soft.
I also love that Alise came with a code we can use at the Adorable Kinder eSchool so Lily can gain access to games and activities as well as register her doll.  As I am typing this post, Lily is snuggled in her bed with her new Adorable Kinder.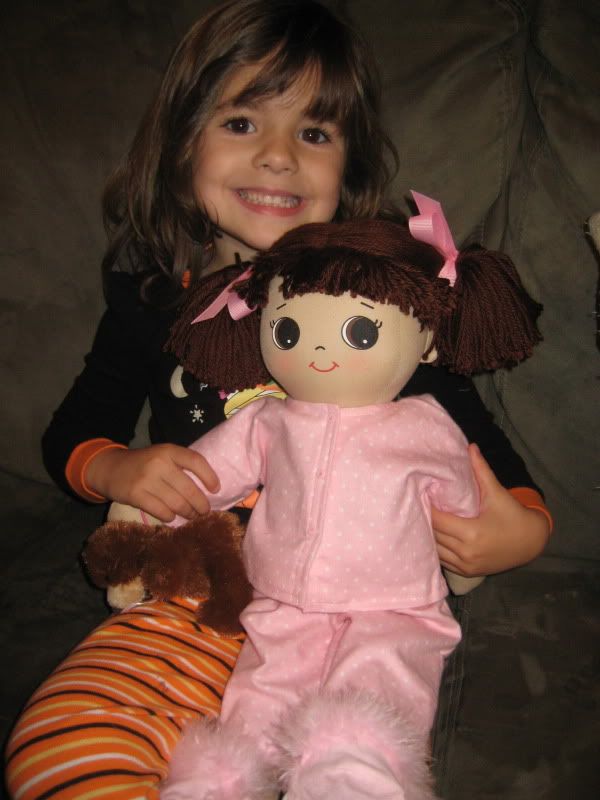 Lily loves her new Adorable Kinder Doll and this toy is definitely Mom-approved!  I love the fact that 26 different dolls (one from each letter of the alphabet) are available including multicultural dolls and boy dolls, as well.  Lily loves to play dress up with her dolls, so I was happy to learn that extra outfits can be purchased for her new friend.  The Adorable Kinder dolls can be purchased directly for $59.99.  And right now, you can use code AKBLOG25 to receive 25% off your entire order through December 31, 2009!
Would your child love an Adorable Kinder of their own? Granza, Inc. has generously offered one Not-So-Blog reader their choice of ANY Adorable Kinder Doll!
How to enter:
1. Visit Adorable Kinders and tell me which doll you would choose if you won!
Additional entries
1. Blog about this giveaway and link to The Not-So-Blog (10 extra entries).
2. Follow me (@BridgetteLA) on Twitter and Tweet this giveaway. Every time you tweet you get an additional entry! Unlimited! (You must have over 50 Twitter followers to qualify for unlimited entries!)
3. Subscribe to my blog.
4. Become a Fan of The Not-So-Blog and Adorable Kinders on Facebook.
Contest ends at 11:59pm CST on December 16th. Prizes not claimed in 72 hours will be forfeited. Open to U.S. Residents only.
This review is the opinion of The Experimental Mommy. Other may have a different experience with the product. Thank you to Adorable Kinders who provided the product for review. I was not compensated in any way except for the complimentary product.