What a difference a year makes!  Last year at BlogHer '09, I was the new kid on the block.  I wasn't sure what to expect and just hoped to learn something valuable.  That conference turned out to be a turning point for me as I met another review blogger and started a wonderful partnership, the Double Duty Divas.  What began as a way to help moms who work outside the home network, quickly grew into a Review and Ad Network with over 200 members.
Fast-forward one year later to BlogHer '10 and we were ready to hit the ground running.  Again, I hoped to learn valuable skills at the conference, but this time I knew it was more about the connections and relationships with other bloggers and brands.  And what's the best way to network?  Party!  Cecelia, Renee and I tried to attend as many events as we could (and perhaps overscheduled ourselves!) in order to meet new friends, catch up with old ones and learn something in the process.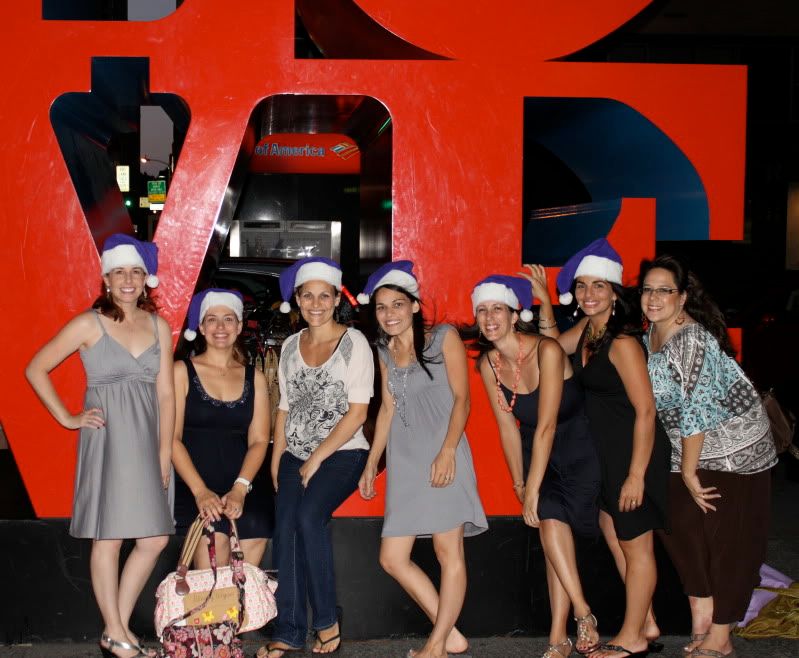 The first stop was American Girl where we enjoyed a relaxing lunch in the Café with dolls…yes, grown women with dolls.  Don't judge me.  It was fun.  After checking in at the hotel, we tried to catch a cab to the Social Luxe Lounge.  Unfortunately, we were unsuccessful and decided to try a Pedicab.  Never.Again.  I saw my life flash before my eyes, but we made it in one piece to the party.  We all had the opportunity to get our hair and nails done, enjoy a relaxing shoulder massage (which we needed after that PediCab ride), and check out the new products from Avery, Ghirardelli (the new luxe milk chocolate was to die for) and Yummie Tummie.  We ended the night by attending the Underwriters Laboratory (UL) party on the rooftop of the Empire Hotel where we learned all about safety in many common situations.  The setting was gorgeous and the atmosphere was truly relaxing (I even got to watch an outdoor ballet performance by Juilliard!).
Believe it or not, I managed to do all of that before BlogHer officially began!  On Friday, we started the day attending a meeting with my friend, Zachary from Coffee for Less.  If you own a single cup coffee machine like the Keurig, you should definitely check out Coffee for Less to supply your K-cups!  Because we were exhausted from the night before, we couldn't wait to head to the Getting Gorgeous Event held by Audrey McClelland and Vera Sweeny where I found my most favorite "Swag" of the conference, the MiracleBody jeans.  I decided to step outside of my comfort zone and try the leggings….I am told that I can pull it off.
Now that I was feeling gorgeous, it was time to hit some sessions!  I attended a "Pitch Me" session that was absolutely fabulous!  I learned so much and intend to share it with you in another post.  After touring the expo hall (the P&G Home Away from Home was stunning), we were ready to devour some cupcakes at "Sweets in the City" hosted by Complicated Mama and The Big Toy Book.  It was here that I met Kelby Carr who was so nice and offered lots of great advice to Cecelia and I.
After getting a sugar high, we ran to the Robeez (pronounced Rob-eez…who knew?) event and finally the Christmas in August party hosted by Hallmark.  The Hallmark event was certainly one of the highlights of the trip.  Entering the penthouse, I was overwhelmed with the smells of the Holiday season.  Here I discovered the Recordable Books from Hallmark and I just fell in love.  Lots of good food, decorating cookies, pictures with Santa and mingling with friends made this party a real joy.
Saturday, we got the chance to host our own meet-up at Starbucks with our Double Duty Diva network.  Coffee for Less and SnuggStuff provided the swag and everyone enjoyed their morning coffee while meeting the Divas.  We took our morning drinks on the road to Scholastic where we learned all about the new releases and literacy initiative.  I remember ordering books from the Scholastic catalog and now I love seeing the excitement in my daughter's eyes when she comes home with her selections.
After lunch, we managed to squeeze in another session on Monetization and then it was off to dinner with Tide.  For those of you who have read my blog for a while now know that Tide is one of my favorite brands.  For obvious reasons, the Tide Loads of Hope project is near and dear to my heart and I cannot wait to work with them later this month for the 5 year anniversary.
Honestly, I have no idea how I managed to fit all of this in one short weekend.  But looking back, I wouldn't change one single thing.  I think BlogHer '10 was a success for me personally and professionally and has made me excited about the future of Experimental Mommy and the Double Duty Divas!  Thanks again to Corky and Co. and Escalate Network for making my trip possible!