You can probably tell my the title of my blog that I am a science geek.  I have always been into science and often asked for microscopes and slides for birthdays or holidays.  When it came time to choose a career, I knew I wanted a white coat, but didn't want to be a doctor.  After taking a few courses in college, microbiology won my heart.
As a professional, I love inspiring little ones with science!  I have visited my high school to give talks on career day, reached out to elementary schools and even judged a few science fairs.  I am always impressed with what the kids put together and how much effort they put into their projects.  However, sometimes their passion and hard work doesn't come through in the presentation.
As a judge, I make a point to read each project entered into the fair.  Posters that are easy on the eye allow the real science to shine through.  Your science fair project presentation does NOT have to cost a fortune, but should be neat, clear and support the work you did.  Flashing lights, writing in ten different colors or covering your poster in glitter can certainly be pretty, but will make the judges job much harder.
If you are looking for some great ideas and materials to use for your science fair presentation, check out Scientific Explorer and Elmer's.  This year, these two companies have partnered to show kids just how easy and fun science, and science fair presentations, should be.  To demonstrate, my daughters and I were sent the Ultimate Crystal Growing Kit from Scientific Explorer! While my daughters are too young to enter a project in a Science Fair, it is never too young to encourage a love of knowledge. The kit contains materials for making a ton of different types of crystals, but my kids wanted to try the sapphire ones.  The directions were easy to follow and within a matter of a few hours, we had beautiful blue crystals!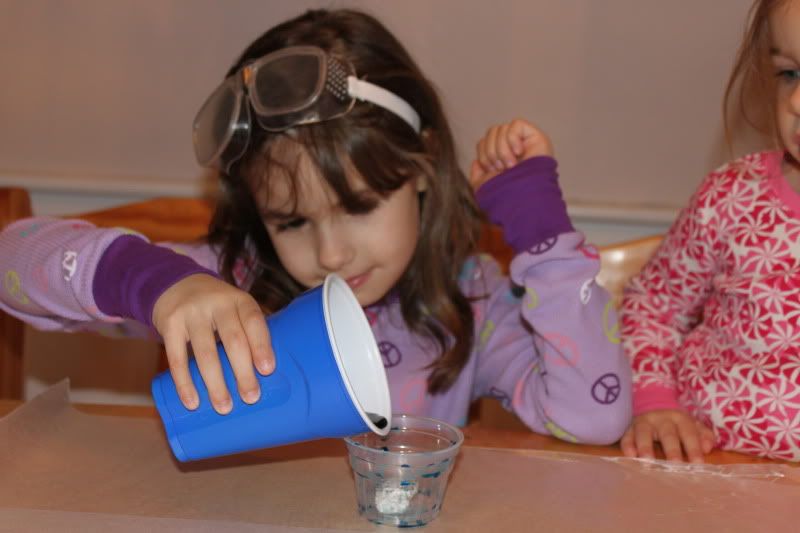 Crystals not your thing?  Scientific Explorer also has a Lava Blasting Volcano Kit and Mythbusters Weird World of Water!  Recently, they also launched a Virtual Science Fair "to share our love of science, we have created an ongoing Virtual Science Fair. We're encouraging you – kids, parents, teachers – to share how you learn and experience science, inside and outside the classroom. Send us your video entry – simply post a response video to one of ours! Each month we'll select a winner of the Virtual Science Fair to showcase and reward with a $50 gift card and free Scientific Explorer products." Check out the announcement below:
After you have done all of your research (don't forget to make a list of references and include books, too!), Elmer's can help your create an award winning presentation.  With a line of foam boards, markers, and Project Popperz to make your project stand out, you are sure to create a poster that is neat, clear and concise while highlighting all of your hard work.  The reusable stencils are perfect for making a neat, readable title!
GIVEAWAY
Would your kids like a chance to have a fun AND educational experience this Science Fair season? Elmer's and Scientific Explorer will be happy to provide a Science Fair Prize Package for one lucky reader including:
Scientific Explorer's Lava Blasting Volcano Kit or Mythbusters Weird World of Water
Elmer's Foam Board – perfect for showcasing a science fair project
Elmer's Project Popperz ® accessories – cool letters, shapes, borders and stencils to make your project stand out
How to Enter:

1. Visit Scientific Explorer and tell me which project peaks your interest!
Additional entries:
1. Blog about this giveaway and link to The Not-So-Blog and Elmer's (10 extra entries).
2. Follow me (@BridgetteLA), Scientific Explorer, and Elmer's on Twitter and Tweet this giveaway. Every time you tweet you get an additional entry! Limited to 10 a day, please. (You must have over 50 Twitter followers to qualify for unlimited entries!)
3. Subscribe to my blog.
4. Become a Fan of The Not-So-Blog and Elmer's on Facebook.
5. Place my blog button on your sidebar.
6. Friend or subscribe to Scientific Explorer's YouTube channel.
Contest ends at 11:59pm CST on March 6th.  Prizes not claimed in 72 hours will be forfeited. Open to U.S. Residents only.
This review is the opinion of The Experimental Mommy. Other may have a different experience with the product. Thank you to Elmer's and Scientific Explorer for supplying the product for review.  All opinions remain 100% mine.