Pssst…wanna know a little secret?  I LOVE CHOCOLATE.  Surprised?  If you know me, this little fact is no shock.  In my opinion, chocolate can make just about anything better.  Why not send some to your chocoholic love for Valentine's Day?  So you decided to send chocolate….now what?  Don't send just any grocery store chocolate, try Chocolate.com!  About Chocolate.com:
"Chocolate.com features handmade, artisan chocolate gifts from world-class chocolate vendors. We bring together the chocolate chef and the gift buyer to form a unique marketplace.  We believe that the finest chocolate is found in small chocolate shops When customers order chocolate from our network, they support a small American business. We are proud of the fact that we help to promote small American companies. We celebrate the fact that every chef has a unique approach. In many cases, our vendors provide a product that is more fresh, more artistic, and less common than factory-made chocolate."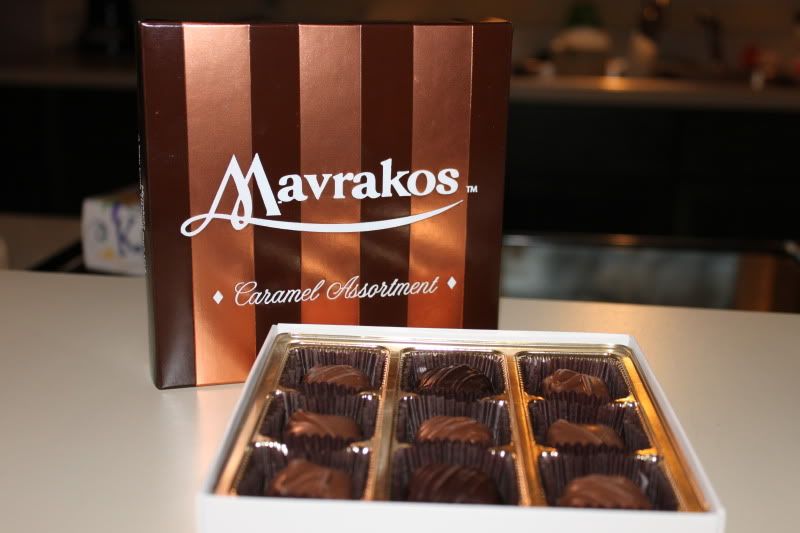 I had the opportunity to try a sample of the chocolate available from Chocolate.com.  I was sent a box of Mavrakos Caramel Assortments for review and I could not have been happier to receive chocolate in the mail (that's way better than bills, right?!?).  The box contained nine pieces of butter, chocolate and raspberry caramels covered in milk or dark chocolate which sells for $12.50.  My favorite was the raspberry caramel (I am eating one right now for inspiration!).  The mixture of the dark chocolate and raspberry flavors was amazing.
Would your sweetie prefer a different sweet?  Chocolate.com also offers brownies, cookies (check out the Valentine's Tasty Cookie Tray!) and even cakes!  There is something for every taste and budget! Make sure you "like" them on Facebook to receive a fabulous coupon, too!
GIVEAWAY
This one is for all my chocoholic readers!  I have one $20 gift certificate for you to spend on any of these featured Chocolate products! YUM!
How to Enter:

1. Visit Chocolate.com and tell me how you would spend your $20 gift certificate!
Additional entries:
1. Blog about this giveaway and link to The Not-So-Blog and Chocolate.com (10 extra entries).
2. Follow me (@BridgetteLA) and @ChocTweets on Twitter and Tweet this giveaway. Every time you tweet you get an additional entry! Limited to 10 a day, please. (You must have over 50 Twitter followers to qualify for unlimited entries!)
3. Subscribe to my blog.
4. Become a Fan of The Not-So-Blog and Chocolate.com  on Facebook.
5. Place my blog button on your sidebar.
Contest ends at 11:59pm CST on February 18th.  Prizes not claimed in 72 hours will be forfeited. Open to U.S. Residents only.
This review is the opinion of The Experimental Mommy. Other may have a different experience with the product. Thank you to Chocolate.com for supplying the product for review.  All opinions remain 100% mine.