Even though it's still crazy humid and blazing hot here in New Orleans, technically it is Fall (although I don't think our grass or trees have gotten that memo as they are all still green and growing!).  But, we are still trying to get into the Halloween spirit with decorations, costumes, candy and…..POPCORN!
Did you know that October is National Popcorn Month?  The people of The Popcorn Factory are celebrating by offering many fun ways to spread the spirit with their 3-way Popcorn Tins!  We recently received the Boo Bats 2 gallon popcorn tin filled with 3 kinds of popcorn: caramel, cheddar and butter (retails for $29.99).  The tin was sealed to guarantee freshness and was incredibly cute!  It wasn't long before little hands found their way into the bucket for samples.  The popcorn was crunchy and delicious!  My favorite is definitely the caramel followed closely by the butter (I'm such a traditionalist!).  The Popcorn Factory has many great options for Halloween including tins and pails filled not only with popcorn, but cookies, chocolate covered pretzels and more!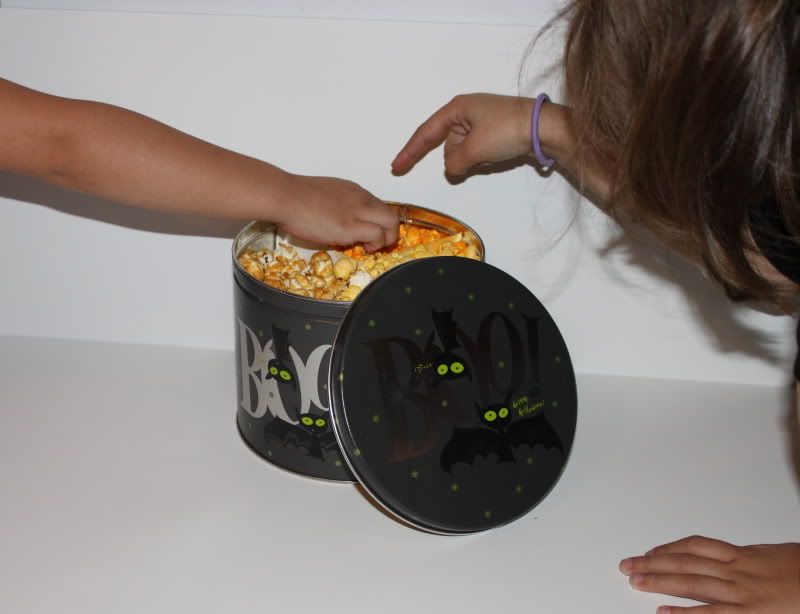 Don't want to send popcorn?  Why not Boo! someone this Halloween with a limited edition Boo Cookie from Cheryl's?  These cute little frosted ghost cut-out cookies come in their own box and are only $5 delivered.  I don't know about you, but I would take a cookie card over bills in the mail any day!
If you are looking for fun ways to celebrate Halloween this October, make sure you check out everything that The Popcorn Factory and Cheryl's has to offer by "liking" them on Facebook!
This post is the opinion of The Experimental Mommy.  Others may have a differing opinion of the product. While a sample was received to facilitate this review, all opinions remain 100% mine.