Each and every review I have done on The Not-So-Blog has been a fun and enlightening experience.  But rarely (ok, never) have I done a review that hit so close to home.  As most of you know, my family and I were seriously impacted by Hurricane Katrina.  My home took in water, my place of business was under 6 feet of water, my job was moved almost 90 miles from home, and my husband lost his job.  We all of a sudden found ourselves homeless with a 6 month old baby in tow.  I have never felt so hopeless and lost in my life.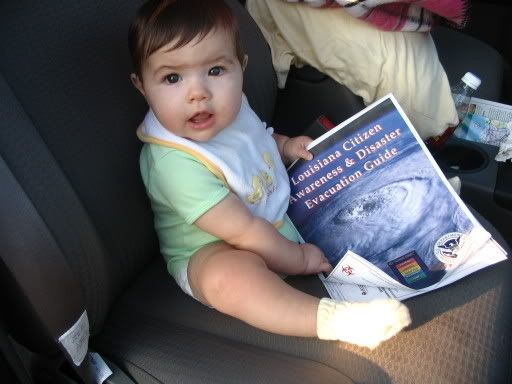 But because of the generosity of friends, family and public programs such as Tide Loads of Hope, we were able to pick up the pieces and start over.  The days and weeks that followed Katrina were filled with countless surreal experiences.  You never quite understand what humility is until you are on the receiving end of charity.  Once New Orleans was reopened about 3 weeks after the Storm, help came by the truckloads.
One of those trucks contained help in the form of washing machines, dryers, laundry detergent and friendly faces.  I am not sure if Tide knew what they were getting themselves into when they arrived, but their services were much needed.  About Tide Loads of Hope:
"In times of disaster people turn to the most basic of human needs—and one of those is clean clothes. The Tide Loads of Hope program provides relief by means of a mobile laundromat. One truck and a fleet of vans house over 32 energy-efficient washers and dryers that are capable of cleaning over 300 loads of laundry every day. We wash, dry and fold the clothes for these families for free. Because, as we've learned, sometimes even the littlest things can make a big, big difference."
Between Hurricanes Katrina and Gustav, Tide washed 13, 871 loads of laundry in the New Orleans area which delivered even more hope to the faces of residents!  However, these programs can get quite expensive to operate.  Now, you can support victims of natural disasters by purchasing Yellow Cap Tide!  Ten cents from the purchase of each bottle (make sure it has a yellow cap!) goes to support families affected by natural disasters.
I had the opportunity to try out the Yellow Cap Tide on a recent load of laundry.  Well, honestly, my hubby did this load without my knowledge.  As I took the newly washed and dried clothes out of the dryer, I saw a dress of Lily's that I KNEW she had spilled a RED snoball (that's a sno-cone for you non-New Orleanians) on and I began to panic.  I asked my husband if he had put stain remover on the huge red stains and he said, "I didn't realize it was stained!" ACK!  I slowly unfolded the white dress and was so relieved to see the stain gone!!  Amazing!
So, not only do you get a great product, but you support a great cause by doing your laundry with Tide!  Want to help more?  Buy a vintage Tide tee and ALL of the proceeds go to help these families in need!
Tide has been generous to not only New Orleanians, but to many other cities trhoughout the United States including Galveston, Texas, San Diego, California and Waterloo, Iowa to name a few.  And now, they have generously donated one entire YEARS worth of Tide detergent, one Yellow Cap Tide bottle and one vintage tee to a lucky Not-So-Blog reader!
How to enter:
1. Visit Tide's product page and tell me another product you would love to try!
Additional entries:
1. Blog about this giveaway and link to The Not-So-Blog.
2. Follow me on Twitter and Tweet this giveaway. Every time you tweet you get an additional entry! Unlimited!
3. Subscribe to my blog.
4. Become a Fan of The Not-So-Blog on Facebook.
5.  Follow @TideLoadsofHope on Twitter.
6.  Sign up for the Tide newsletter.
Contest ends at 11:59pm CST on July 22nd. Prizes not claimed in 72 hours will be forfeited. Open to U.S. Residents only.