Neutral Ground.  Sidewalk side.  Poboy.  Make do do.  Suck the heads.  King Cake.
If these words are in your vocabulary, then you are probably a native New Orleanian.  I am proud to say that I have lived in the Big Easy for my entire life (35 years and counting) and have been fortunate enough to be surrounded with its rich culture and hospitable people.  New Orleans is in my blood and part of my soul and I have to remind myself that not everyone understands our "ways."  Through my online life, I have met many new friends and it has been great fun to share my City and traditions with them.  With Mardi Gras approaching, it's a great time to share another New Orleans tradition with you all…..the King Cake!  A little background:
"As part of our Christian faith, the coming of the wise men bearing gifts to the Christ Child is celebrated twelve days after Christmas. We refer to this as the Feast of the Epiphany or Little Christmas on the Twelfth Night. This is a time of celebration, exchanging gifts and feasting. Today, the tradition continues as people all over the world gather for festive Twelfth Night celebrations. A popular custom was and still is the baking of a special cake in honor of the three kings called "A King's Cake."
Inside every cake is a tiny baby (generally plastic now, but sometimes this baby might be made of porcelain or even gold). The tradition of having King Cake Parties has evolved through time, and the person who receives the slice of cake with the baby is asked to continue the festivities by hosting the next King Cake party.
Originally, King Cakes were a simple ring of dough with a small amount of decoration. Today's King Cakes are much more festive. After the rich Danish dough is braided and baked, the "baby" is inserted. The top of the ring or oval cake is then covered with delicious sugar toppings in the traditional Mardi Gras colors of purple, green and gold."
From the time I was little, I can remember eating King Cake just about every Friday during Carnival, so as you can imagine, I have tried many, many King Cakes.  Some are better than others, but recently I was asked to try a sample of the King Cake from Sucre New Orleans.  A little about Sucre:
"From breakfast to a midnight snack, Sucré is available to satisfy your sweet tooth. Sucré (French for sugared) is an emporium of "artisan" sweets. Unlike a traditional bakery, Sucré serves plated desserts with custom garnishes in addition to boxed treats."
When the King Cake arrived, it was packaged very well (saran wrapped in a cardboard box) which would make this an excellent cake to ship to family and friends.  My daughter inhaled her dinner in order to get to dessert….she could NOT wait to dive into the new King Cake (girl after my own heart).  When we opened the box……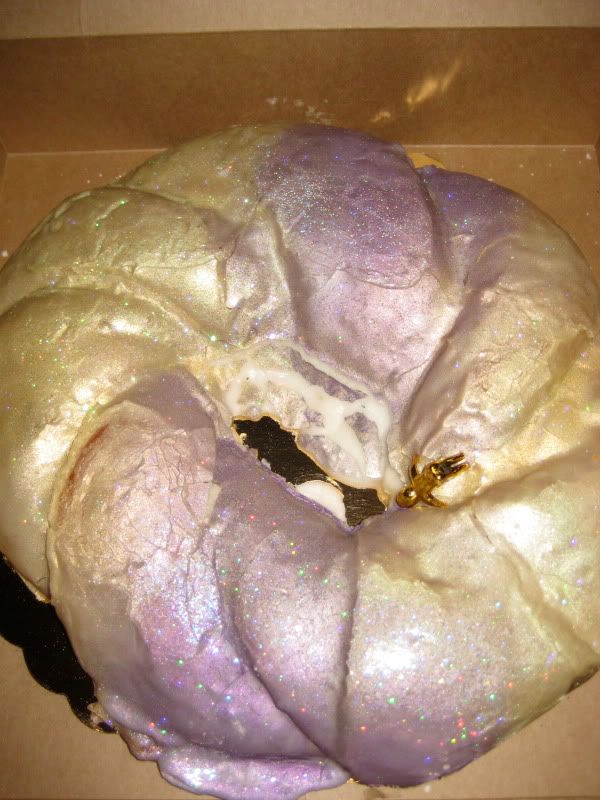 …..I was speechless.  The King Cake from Sucre was honestly the most BEAUTIFUL King Cake I have ever seen.  I know it sounds cliche, but I am serious!  The whole cake appeared gold in color with sparkling glitter creating the purple, green and gold sections like a traditional cake.  My daughter exclaimed that it looked like a "princess cake!"  It came packaged with three Mardi Gras beads to add to the excitement as well as a little card that described the King Cake as, "a ring of twisted, buttery dough sweetened with cinnamon and sugar and filled with a whipped cream cheese filling."
Following the directions, we heated the cake slightly and served what can only be described as pure heaven on a plate!  Honestly, this King Cake is one of the best I have ever eaten!  The cream cheese filling is very light and just makes the cake more moist then others I have tried.  The sugar is perfect and not overpowering.  And if that doesn't say enough, I have already ordered another King Cake from Sucre!  Don't live in New Orleans?  Don't worry!  They ship nationwide for a flat $9.95 fee!
Sucre also offers a great selection of Valentine's Day gifts for your loved one!  Check out the "I Love You" gift box!
Is your mouth watering yet?  Can you *almost* taste the King Cake?  Sucre has generously offered to share the spirit of Mardi Gras with one lucky Not-So-Blog reader who will receive their very own King Cake!!
How to enter:
1. Visit Sucre New Orleans and tell me what makes your mouth water?!
Additional entries:
1. Blog about this giveaway and link to The Not-So-Blog (10 extra entries).
2. Follow me (@BridgetteLA) and @SucreNewOrleans on Twitter and Tweet this giveaway. Every time you tweet you get an additional entry! Unlimited! (You must have over 50 Twitter followers to qualify for unlimited entries!)
3. Subscribe to my blog.
4. Become a Fan of The Not-So-Blog and Sucre New Orleans on Facebook.
5. Place my blog banner on your sidebar.
Contest ends at 11:59pm CST on February 8th. Prizes not claimed in 72 hours will be forfeited. Open to U.S. Residents only.
This product review is the opinion of the Experimental Mommy. Others may have a different experience. Sucre New Orleans supplied me with a sample for review, but all opinions are 100% mine.