Last year, we decided to take this kids to their very first New Orleans Jazz Fest!  If you've never been (what are you waiting for?!?), the festival takes place at the Fairgrounds and brings together some amazing music and food promising a fun time for all.  However, it POURED the day before the festival and turns the fairgrounds into a huge mud pit.  Before heading to the Fest, we stopped to get the girls some rain boots in order to make navigating the grounds a little easier (and a lot less messy!).  The only boots we could find were U-G-L-Y and my two princesses were not happy.  So, when I saw the new Ballerina Collection from Kidorable, I knew the rain boots were a must have for the upcoming 2011 Jazz Fest!  About Kidorable:
"In 1997, Kidorable sprung from the minds, hearts and efficiency apartment of Liping and Jonathan Domsky. They proclaimed, "The world needs someone to create children's apparel and accessories that are both functional and fun. We can do that."  And so Kidorable was conceived. Starting with lions and cats and bears, oh my, manifested as umbrellas and hangers, Kidorable generated enough sales during its first year to break even and plant fruitful Kidorable seeds throughout the land. The following year sales grew ten fold. Every year since, give or take, a new style and/or product line debuted. And every year, the world joyfully embraced more Kidorable delights, give or take, than the year before."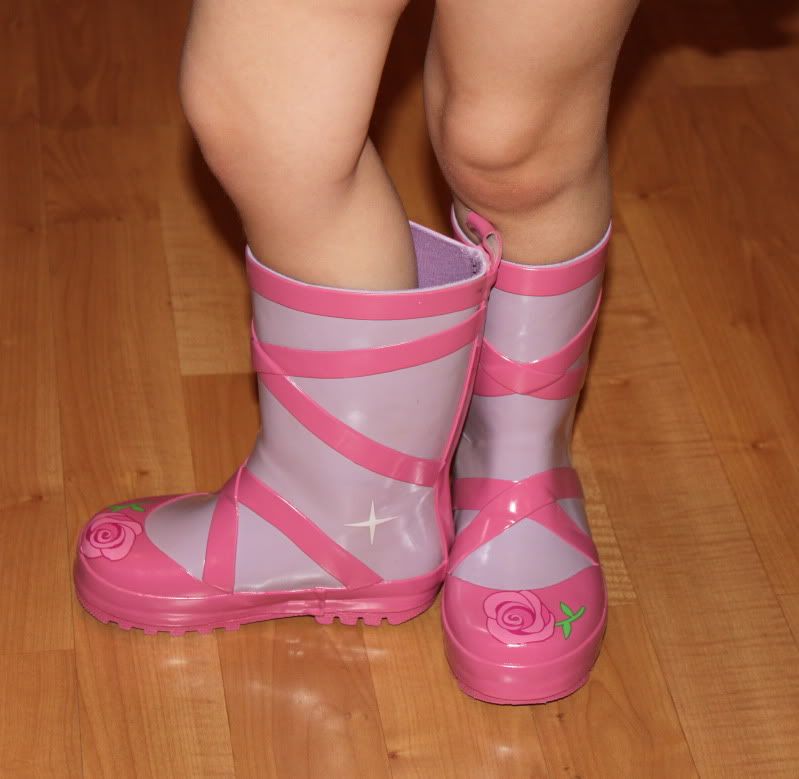 After taking a look at the offerings by Kidorable, I wasn't sure what I loved more!  The Ballerina Boots are precious, but the Rain Coat is so unique!  When the boots arrived, my daughter squealed and immediately threw off her shoes in order to try them on.  The boots come in kids sizes 5-13 and young adult sizes 1 and 2 and fit true to size.  My daughter typically wears a size 7 and they fit her perfectly.  I don't think she even realized they were rain boots because she promptly danced around the living room as if she had on the softest ballet slippers!  In fact, she asked to keep them on while she took her nap, but thankfully I convinced her otherwise.
Are your boys not a fan of ballet?  Don't worry, Kidorable has a new Space Hero line just for the little guys!  Complete with a rain coat, boots, umbrella, backpack and hangers, you can't go wrong with any of these items for the space explorer in your home! And if you have a little Diva, you have to check out the Houndstooth Rain Coat inspired by Madonna's Best Selling Children's Book, The English Roses.
GIVEAWAY
Do you have a little ballerina in your home?  One lucky reader will win Kidorable's Ballerina Umbrella!
How to Enter:

1. Visit Kidorable and tell me which collection catches your attention!
Additional entries:
1. Blog about this giveaway and link to The Not-So-Blog and Kidorable (10 extra entries).
2. Follow me (@BridgetteLA) and @Kidorable on Twitter and Tweet this giveaway. Every time you tweet you get an additional entry! Limited to 10 tweets a day, please. (You must have over 50 Twitter followers to qualify for unlimited entries!)
3. Subscribe to my blog.
4. Become a Fan of The Not-So-Blog and Kidorable on Facebook.
5. Place my blog button on your sidebar.
Contest ends at 11:59pm CST on March 7th. Prizes not claimed in 72 hours will be forfeited. Open to U.S. Residents only.
This review is the opinion of The Experimental Mommy. Other may have a different experience with the product. Thank you to Kidorable for supplying the product for review. All opinions remain 100% mine.