Is Summer really almost over?  Here in Southeast Louisiana, my kids are headed back to school in only 3 weeks.  That means it is time to start getting back in routine, gathering school supplies and thinking about creative snack and lunch ideas.
Each day, both of my girls need to take a snack to school with them.  I hate sending the same thing everyday and I really put some thought into sending something healthy.  So, I was happy to learn about the new Crunch Paks!  About the product line:
"Crunch Pak, the leading maker of fresh sliced apples,  has a new line of fresh sliced apple products and sliced apple snack packs for kids that are co-branded with Disney.  The new Crunch Pak with Disney line features popular Disney characters such as Phineas and Ferb and characters from the Cars 2 movie and meets nutritional guidelines created just for kids.
Crunch Pak's FOODLES™ line are already in stores everywhere nationwide. Packaged in the shape of Mickey Mouse and featuring Mickey and friends characters, FOODLES™ feature an assortment of healthy snack food options including apples, grapes, cheese and pretzels."
We were sent some of the Crunch Paks with cheese, apples and pretzels as well as some of the FOODLES packs with apples and grapes.  My girls immediately zeroed in on the Mickey Mouse shape of the container and couldn't wait to see what was inside.  Once we opened the pack, they dove into the cheese first, apples and finally pretzels.  It was gone in no time flat!  I definitely think, especially because time is of the essence in my home, I will purchase these for school snack times.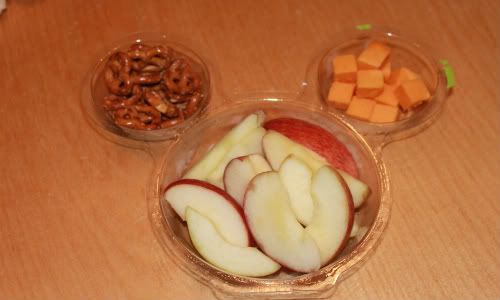 And be on the lookout this Fall as Crunch Pak offers its first Princess themed FOODLES™ featuring Cinderella's carriage.  My girls will go nuts for this!  If you are looking for easy and nutritious school lunch and snack ideas, check out the Crunch Pak line up and don't forget to follow on Twitter for the scoop on the latest products and deals!