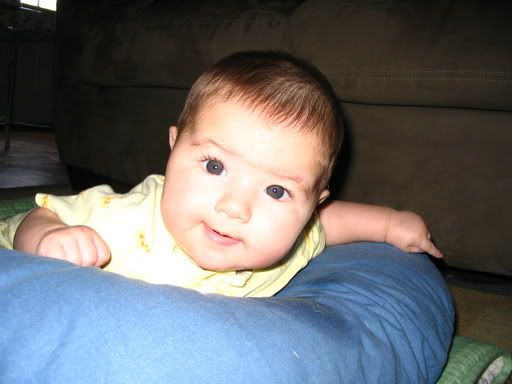 In 2005, I became a Mother for the first time.  Because Motherhood was so new to me, I was meticulous about recording my baby's every move including feedings, diaper changes and naps.  I carried a journal in my diaper bag so I would not miss a thing even when we were on the go.  A little neurotic?  Maybe. But for my scientific brain, the input and output of my baby was like data that must be recorded!
Recently, Similac released an iPhone app that would have made life so much easier!  This free app allows you to make note of feeding (both bottle and breast), diaper changes, nap times and growth measurements.  The app even creates trend charts so you can easily identify developing patterns allowing you to predict your baby's needs.
The hardest thing for me to remember when I was nursing was with which breast I had started.  Fortunately for new breastfeeding Moms, the app allows you to track which side you began with and how long the baby fed.  I know my daughter preferred the right side, so I did work hard to get her to take the left as well.  You can record how long the baby goes between feedings and detailed descriptions of what comes out.  Trust me, I never thought I would dissect what comes out of my baby, but if the doctor wants to know, you need the info at your fingertips!
I think the best part of the app is that your findings can be emailed directly to your pediatrician or family.  I know in the beginning, I was concerned that my baby wasn't eating enough and this app would have been a great way to communicate my findings to our pediatrician.  Pulling out an iPhone would have been so much easier than fumbling with a bulky journal.  What a peace of mind!
Keeping organized made me feel like I had some control over the new little one in my home (however false that may have been), but admittedly, it was hard when you were sleep deprived.  I can't imagine keeping track of more than one baby at a time!  Two of my friends had sets of twins, so I can only imagine how helpful the Similac StrongMoms Baby Journal would have been to them.  You can track more than one baby at a time and even upload a picture to keep the records straight!
Whether you are breastfeeding or bottle feeding, new Mom or Mom of five, the Similac StrongMoms Baby Journal can help you stay organized so you don't miss a thing!  Did I mention it's FREE?
This review is the opinion of the Experimental Mommy.  Others may have a differing opinion of the product.  The Similac iPhone app is free for all, however I was compensated for my time from Collective Bias.  All opinions remain 100% mine.